Imperial Tutor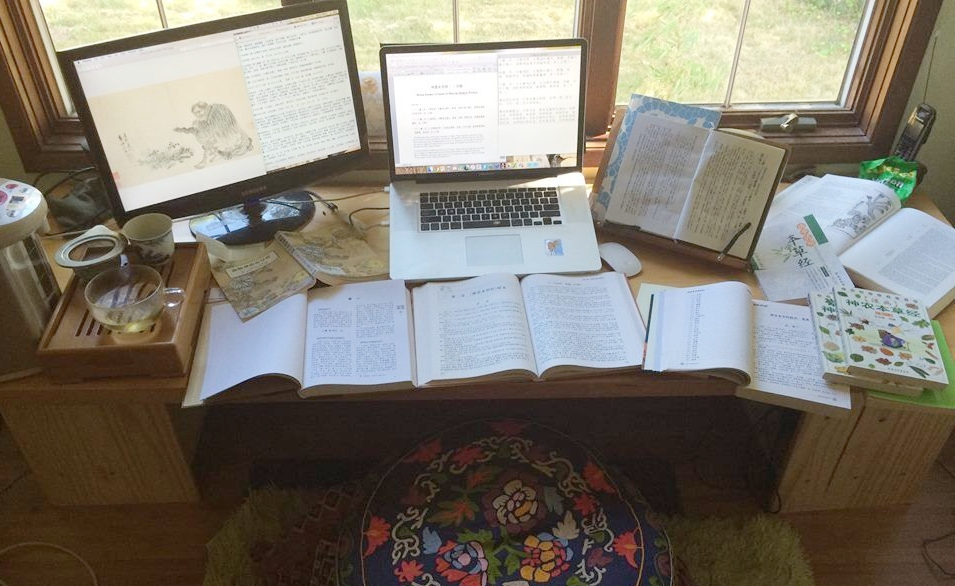 Translating Ancient Chinese Wisdom into Medicine for Today
This is the title and subtitle of my newest project, rooted in my desire to share what I have learned from the ancient Chinese classics (medical, philosophical, cosmological, and otherwise) with you all, my students, friends, readers, and colleagues near and far, in a more direct and personal way than is possible in writing. To be sure, I treasure every moment of my new reclusive life on a magical island in the Salish Sea and feel so fortunate to be able to concentrate fully on my writing and translating. And I am very clear that without this peace and quiet I could never do the deep work that I am currently engaged in on my Sù Wèn 5 project, forthcoming as "Humming with Elephants: The Great Treatise on the Manifest Resonances of Yin and Yang" by the end of this year, I sure hope! But as I explain on the home page of my brand new website, which I quote below, I have always loved sharing what I know in small personal circles. And so I have created a vehicle for that in the formats that work best for me (see HERE for a description of my offerings). I look forward to supporting you all in one form or another, as a reader of my books, participant in a retreat at my home, personal mentee on a beach walk or via a skype consultation, or in the audience of a big lecture at a congress, but ideally eventually over a cup of tea. By the way, my first retreat offering is happening December 1-3, 2017, on Virtue Healing in the tradition of Wang Fengyi, team-taught with Scott Tower.
I am sharing my story about my recent life change with you in the hope that it will inspire you or strengthen you in your own determination to follow your heart and live in accordance with your mìng 命 ("destiny"). The world needs each of us to show up in our best, most effective, and smoothest way possible. As expressed in the Chinese concept shùn 順, meaning "to go along with the current," instead of nì 逆 "to move counter-current," it has blown my mind how everything has fallen into place in the past few months, once I decided to just surrender to the Dao and trust in the universe. The current has been quite strong at times, and riding the rip tides has taken some getting used to, but look where I have landed! I sincerely hope to share this beauty with you in one way or another and encourage you to seek the same in your own life. What follows is an excerpt from the home page of my new website, imperialtutor.com.
The vision and inspiration for "Imperial Tutor" was born from a Chinese astrology reading in the spring of 2017 where I learned that my professional focus in this lifetime is to serve as "Imperial Tutor." A normal person might stumble over that job description, but to me this made immediate and perfect sense. It also gave me a clear direction on how to change my life going forward to better match my mìng 命 (destiny). I know that I am no emperor nor leader of any kind and find those situations, when I have been thrust into them, quite stressful. I also know that in this particular lifetime I don't get to be a hermit in the mountains or nomadic goat herder, as I often wish. A tutor is a person who gives guidance or instruction to either individuals or small groups. I started tutoring (music, German, and Latin) in middle school, to earn the money for my first bicycle, and have loved this role ever since. "Imperial" is not an adjective I would use to describe myself, but the point of this job description is that I get to support YOU and enable and inspire and educate YOU, so that you can assume the leadership role that is in your stars.
In the classical Chinese world view, the equivalence between medicine and rulership, and between the roles, skills, and approaches of the Emperor and the Physician, is ubiquitous. Both doctors and rulers, at least in ancient China, are supposed to establish good order and "nurture life" (yǎng shēng 養生) by managing flow, by draining excess and supplementing deficiencies, resolving blockages and containing gushing floods. Intimately linked through resonance between the microcosms of the physical body and the body of the state with the macrocosm of Heaven and Earth, the skills of one are easily translated into the skills of the other.
The human body is just like a state. The chest and abdomen are like the imperial palace, the arrangement of the four limbs like the outskirts, the divisions of the bones and joints like the hundred offices. The spirit is like the elite, the blood like the servants, and the qì like the general population.
Knowing how to treat the body, you thereby know how to rule the state. By loving your people, you create peace in the state. By cherishing your qì, you keep the body complete. When the population scatters, the state perishes. When the qì is used up, the body dies.
– Baopuzi 抱朴⼦, quoted in Sun Simiao 孫思邈, Bei Ji Qian Jin Yao Fang 備急千金要方
And in this way, it is my great pleasure and honor to support you, dear "Emperor" or perhaps still "Prince" or "Princess," on your path to mastery of this unique ability to restore order and harmony, in our proper role as humans between Heaven and Earth, by sharing what I have learned from the Chinese philosophical and medical classics.
"The sage rests. Resting then results in balance and ease. Balance and ease then result in tranquil indifference. Balance, ease, and tranquil indifference mean that worries and trouble are unable to enter and that evil Qì is unable to carry out a sneak attack. For this reason, the sage's virtue-power is complete and the Spirit is not lost."
— ZHUANGZI 莊子