Venerating the Root, part I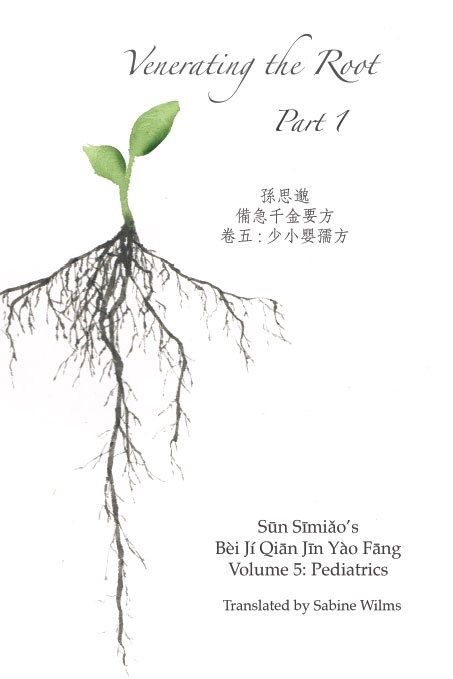 Venerating the Root, part I
Sabine Wilms' translation of the first half of Sun Simiao's writings on pediatrics, found in volume 5 of the Bei Ji Qian Jin Yao Fang 備急千金要方.
Paperback ISBN-13: 9780991342907
Hardcover ISBN-13: 9780991342976
This book is a literal translation of the first half of Volume 5 from the Bei Ji Qian Jin Yao Fang 備急千金要方 on pediatrics, composed by Sun Simiao 孫思邈 in the seventh century. It includes the following features:
40 pages of introductory matter and 323 pages of main text.
A critical edition of the Chinese text with the literal English translation on opposing pages.
Four main sections on "Preface," "Emergence of the Newborn from the Abdomen," "Fright Seizures," and "Intrusive Upset." Here is a link to the Table of Contents.
For an excerpt from the Preface, click here.
Extensive translator's notes that explain individual terms, medical concepts, alternative readings of passages, translation issues, etc.
Clinical commentary by Dr. Brenda Hood. For a sample from the section on Fright Seizures, click here.
Interspersed throughout the translation and commenting on each major formula in the text, a full translation of the section on pediatrics from the Qian Jin Fang Yan Yi 千金方衍義, a commentary on the Qian Jin Fang composed in 1698 by the famous physician Zhang Lu 張璐. See here for a translation of Sun Simiao's entry on "Longdan Tang" followed by Zhang Lu's commentary.
Forewords by Peter Firebrace and Genevieve LeGoff, including a poem by Peter Firebrace that summarizes the content.
A Preface by Sabine Wilms, excerpted on the page on "Nurturing the Small" under the "Teachings" tab.
A general index and indexes for single herbs and formulas, indications, acupuncture and moxibustion, and proper names.
For more information and a summary of the Preface, see the page on "Nurturing the Small" on this website. For a review by Stephen Scott Cowan, click here.